Ganga Walia

Mug

Gender

Female

Age

24

Fire Emblem Class

Pegasus Knight > Falcon Knight > Seraph Knight

Signature Fire Emblem Weapon

Short Spear and Brave Lance
Personality
Edit
Ganga is a mature, smart, and pretty girl. Her flaw is having a terrible temper. Ganga isn't much of a fighter, bu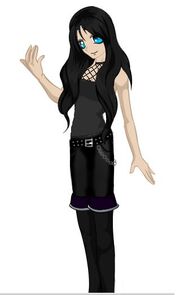 t she is very good at planning attacks and being in charge.
Ganga's mother had been murdered when Ganga was just a baby. So, Ganga lived with her step mother, Meera ,and father, Jai. Ganga was hated by Meera, but loved by her father. Ganga had her mind poisoned by by Meera that her Jai hated her, and Meera loved her. One day, when Ganga had returned home from camp, she saw a boy getting kicked out of her mansion, he had brown hair. That was the day Ganga understood that Meera was evil. Ganga tried to tell her father that she was evil, but he had be influenced by Ganga's Meera's words and had turned bad too. Till this date, Ganga wonders who that man was who was kicked out of her beloved mansion. With the help of Ganga's father's sister, Ganga started to believe her parents were good again with a bit of suspicion every now and then.
Vicky Walia
- Step - Brother
Jai Walia - Father
RP History
Edit
Elemental Wars
Edit
Eclipsing Twilight
Edit
Vicky Walia (c) HeartOfPinkSol
Melissa Regale (c) Windwarrior234
Shabd Sareen (c) HeartOfPinkSol
Kedray (c) GeneralAstra
Anastasia Silverwing (c) Zilver_Hawk
Zander (c) Amanda2324
Copyright
Edit
OC belongs to: HeartOfPinkSol- Moderator of Fire Emblem Roleplay (FERP)
Ad blocker interference detected!
Wikia is a free-to-use site that makes money from advertising. We have a modified experience for viewers using ad blockers

Wikia is not accessible if you've made further modifications. Remove the custom ad blocker rule(s) and the page will load as expected.